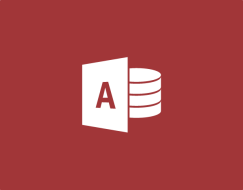 Microsoft Office Development
Why Choose Access?
There are many database products out there. But none is as popular as Microsoft Access.

It comes with Microsoft Office Professional and so you may already have it.

Microsoft Access integrates tightly with Microsoft Office.
Microsoft Access can be used to build applications rapidly thus saving you money.

Microsoft are constantly improving their database which helps future-proof your investment. It is not a dead end product.
It can be used on networks with over 20 simultaneous users.

Microsoft Access can replace an aging DOS application where your support may be dwindling.

Microsoft Access is fast, consistent and reliable.
---
Can I Design it myself?
Yes! This is certainly possible. In fact, part of our website covers this very area. Designing it yourself can save you money but be very careful! You can often end up spending a lot of time and never getting quite what you want.
---
When Should I Design it Myself?
If you have good computer literacy and more time than money. It does take a while to learn but training and a helping hand will make life much easier. Some areas will benefit greatly from the experience of an expert, while others can be done by yourself.
---
When Should I Leave it to the Experts?
If your computer skills are average or below average; you want a robust application; you want more functionality than a very basic database. No-one can do it like a professional. They will ensure it is set up right the first time and will work exactly to your specifications.

---
Common Uses of ITO's databases:
Linked to Sage 300 CRE Timberline and other Accounting Systems

Sage 300 CRE Timberline Waiver Management System

Sage 300 CRE Timberline's Human Resource Database

Sage 300 CRE Timberline's Flexible Data Entry

Replication of Key Business Processes

Push button bridging solutions

Bridge between Concur and Sage 300 CRE

Bridge between ADP and Sage 300 CRE

Bridge between COUPA and Sage 300 CRE

Client Contact Management

Sophisticated Excel spreadsheets

Excel based financial statements and other reporting

Excel spreadsheets with Macros and Power Pivots

Invoicing and Order Processing

Stock Control, Sales Ledger and Purchase Ledger

Marketing

Complex calculations and reporting

Converting large data via Access databases
---
Benefits to My Company

Ultimately, the database must pay for itself in some way. Sometimes there can be a clearly tangible return or time saving. In other instances it is more difficult to measure.

Consider the following benefits:
Free yourself from repetitive tasks, saving time and money
Manage large amounts of information effortlessly.
Find key information in seconds, not hours.

Extract valuable information and trends from the mass of meaningless data.

Avoid having to change your business to suit an off the shelf package

We can help you identify the specific benefits you'd receive once we have details of what you are looking for.